How choose the RGB pool light for your swimming pool ?
Pool lights can make your pool look gorgeous, but how to choose the right pool lights is a question.
Today we tell you how to choose RGB pool lights.
MAXILLUM's RGB pool lights are divided from the control mode, which can be divided into switch control and remote control. The remote control is divided into infrared remote control (R15) and WiFi remote control.
1) Switch ON/OFF control
Switch ON/OFF control is the simplest control mode.Our RGB lamp has 15 kinds of working modes, and you can change the color mode by switching ON/OFF. Switch control pool light has the best synchronization performance. RGB Pool lights also have a memory function, you choose your favorite mode, after the lights off, the next time the lights on, the mode still is your favorite one.

2) Infrared remote control R15
The infrared remote control pool light is equipped with an R15 rgb remote controller. The button 1 is on, the button 2 is off, and the button 3-15 are the corresponding 13 kinds of working mode.You can press any button to choose the mode you like.This one also has memory.
Due to the limitations of the infrared remote control technology, this remote control is suitable for the family's small swimming pool, 1-3 lights are more suitable.Too many lights, because of the distance, there will be out-of-sync phenomenon.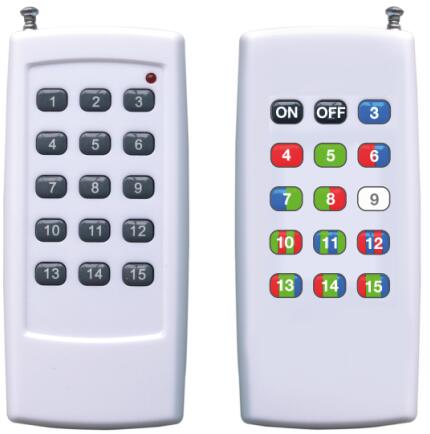 3) WIFI remote control
WiFi remote control is a newly developed pool lamp control system. Support for android and IOS. Install the free Magic Home APP on the phone, which is connected to the 4-wires pool lights, and you can choose the mode freely. There are many modes in the Magic Home APP. What is most recommended is that the pool lamp can be combined with the music in the APP. The color of the lamp changes with the change of sound rate, which is very suitable for family party. RGB WiFi Control Box